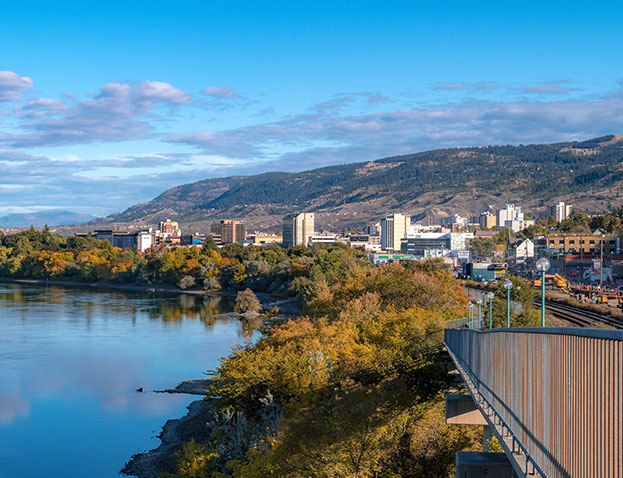 Full-Service Chiropractic Clinic in Kamloops
Turner Chiropractic is a family-based chiropractic clinic in Kamloops, we have been serving the community for over 50 years.
We provide diagnosis and treatment for spine-related injuries caused by sports-related or non-sports related activities. Whether it's lower back pain, neck pain, or headaches, our team of experienced chiropractors can help determine the cause of the problem and offer a comprehensive treatment plan to help you recover.
Your Spine Is Our Top Priority
Our goal is to educate and provide effective treatments to our patients suffering from back pain or other spine-related conditions. Our chiropractic doctors – Dr. Kevin Turner and Dr. Brian Turner –use various diagnostic and therapeutic techniques to determine a treatment plan fit for your unique needs. We understand how the health of your spine impacts your overall quality of life and wellness.
Directions to Our Clinic
Our clinic is on the 5th floor of the Cornerstone Tower (formerly the Klapstock Building) on the corner of 1st Avenue and Victoria Street across from the city hall. We welcome new patients and do not require any referrals. Additionally, you will find computerized foot scanning for orthotics.
When to Visit a Chiropractor?
Most people suffer from back pain, neck pain, and other spine-related issues. For some, it lasts for only a few days, but for others, it can persist for a long time. Some of the causes behind chronic back pain, muscle strains, and neck pain include stress, accidents, and injuries. If you are struggling to manage the pain or are concerned about your back, you should seek the advice of a chiropractor to alleviate the root cause of the pain. For additional information, you can give us a call and talk to our experienced chiropractors.
"The doctor of the future will give no medicine but will interest his patients in the care of the human frame, in diet and in the cause and prevention of disease."